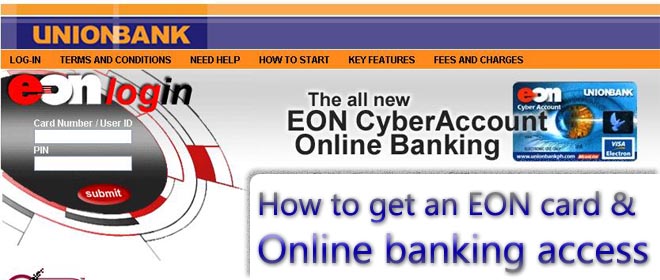 How to get an Eon card and Online banking access :
The EON card / account is the best banking account that you can use for your Paypal transactions. You can easily accept payments and pay online using EON. This is because UnionBank has been given this special privilege from Paypal. You will experience low or no fees when using EON to withdraw your Paypal funds.
Below is a guide on how your can apply for an EON card/account;
Please Go to the Nearest Unionbank Branch and BRING the following:
(a) Php 350 (for the annual fee of EON card)
(b) 2 VALID IDs (ie. PRC ID, TIN, Company ID, SSS, GSIS, School ID, and others)
(c) An extra 200 php (You will be depositing this the EON/Unionbank account that you are opening. You will be needing this to verify your Paypal account)
(d) After applying, you will be asked to wait up to 5-7 business days to get your card. You can ask for the branch number so  you can call them to check if your card is already available next week.
Online banking access can be used to transfer funds to other UnionBank accounts for free. It can also be used to check your real time bank account statements (Paypal withdrawals, ATM withdrawals, ATM fees and others). You can also use it to pay bills to VECO, Globe Telecom, MCWD and others.
Below is a guide on how to activate your EON online banking access;

How to ACTIVATE your Card at ONLINE banking
(a) Go to www.unionbankph.com
(b) Click EON CYBER ACCOUNT logo
>>> then you will be redirected to a new window <<<
(c) Click ENROLL HERE you can find it below
Start banking online with your EON. Make sure you fill up your application with the same information that you used when opening the EON/Unionbank account.
(d) Enter your Card Number and ATM PIN
(e) Then wait for 3-5 days for the Activation Process
>>> sometimes, activation process is completed for only 24 hours <<<
(f) Try logging in to the online banking facility of EON to see if you already have access to online banking
The following two tabs change content below.
Eldest brother of 6 brothers, father of 2 daughters, husband to 1 loving wife, programmer, gamer, entrepreneur, freelancing advocate, financial planner, practical spender except on food, anime lover, and your internet savvy friend. I want to help build/convert more freelancers, independent workers, entrepreneurs in our country(Philippines).