How to withdraw from PayPal to Unionbank within a day?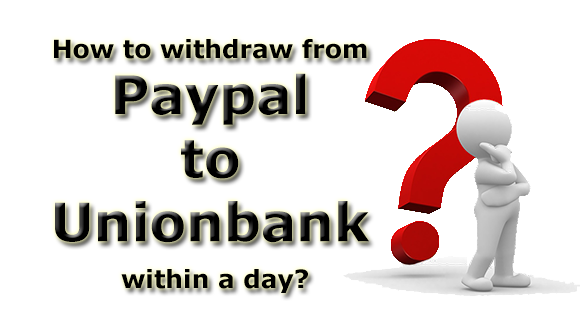 PayPal to Unionbank is one of the options for Filipino freelancers and some online sellers for withdrawing their PayPal funds to cash. They are paid through PayPal, and they can automatically receive the money straight to their PayPal account. They can also choose to withdraw their funds to their Unionbank's EON or savings account anytime.
Unionbank is the affiliate bank of PayPal in the Philippines. It only cost Php 50.00 when you withdraw Php 6,999 and below and it's free when you withdraw Php 7,000.00 and above.
Withdrawing your PayPal funds to Unionbank would usually take 2-5 business days, but sometimes it will cause delays or your money returned to your PayPal account. And so you can't use your PayPal funds for emergency cases.
Have you ever thought what if withdrawing your PayPal funds that won't take half a week?
Have you ever thought what if you can withdraw from Paypal to Unionbank and spend your money within the same day?
No what ifs, we make this happen everyday!
Let me introduce to you to Peso Exchanger's PayPal Withdrawal Service or PWS. It allows you to withdraw your PayPal funds to your Unionbank account in just a few minutes.
You can also use the PayPal Withdrawal Service (PayPal to Unionbank) even on weekends and holidays. With this you can now use your Paypal funds in emergency cases, pay due bills on time, spend your Paypal funds just like you would spend your cash and many more.
And now, you're wondering how it works? CLICK HERE to see how it works or simply play the video below:
No more waiting for days for you to be able to use your money. Interesting, isn't it?
So, what are you waiting for? Apply for our verification. Please read carefully and understand our Verification Process and Terms of Services, be sure that you have agreed to it before submitting the form.
If you are already a verified client, please read How To Request an Exchange.
If you have questions please visit our FAQ page.
You can contact us on our fan page, facebook, email or our mobile numbers:
Staff
Contact Information
Schedule
Neil
 
Monday – Friday
From  9:00AM-8:00PM
Available even
holidays or weekends
Jyza
Wednesday – Sunday
From  9:00AM-8:00PM
Available even
holidays or weekends
Our full time staffs are always ready to assist you with your request or questions.
They are online from 9:00AM-8:00PM every day, even on holidays or weekends.
The following two tabs change content below.
The youngest of the family, animal and food lover, who values time and family, thrift, business minded, and a team player.