SPECIAL OFFER ! PayPal funds for sale with NO FEES!
This offer is valid only from October 1, 2012 – October 31, 2012.
Valid until supply last. Contact us now!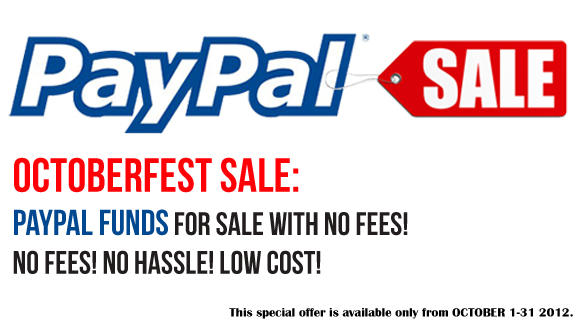 Why do we need Paypal funds?
Using these funds you can shop online! Pay subscriptions! Pay bills and send the funds to other Paypal users!
Buy something on eBay and millions of other shopping websites accepting Paypal!
Pay hosting bills or subscriptions from 1and1.com, godaddy.com and other services websites!
Pay your employees online or send money to love ones without having to pay any fees!
This opportunity saves you the hassle of having to add your bank account to your Paypal account.
How much is the cost for every 1 Peso?
1 PHP will be sold at 1 PHP only. No additional fees!
How much is the cost for every 1 USD?
1 USD  will be sold at how much exchange rate Paypal has. This will be regularly posted in our Facebook account.
How do I pay you?
You can pay us through bank transfer, bank deposit, cash remittance or cash upon meet up.
Here are more details about the Payment options.
How does this work?
First make an order of how much Paypal funds you want to buy. Click here to fill up the form to reserve the Paypal funds.
We will get back at you for an invoice on how much you will be paying. You will be given the total cost and order code/invoice code.
Pay us through the option on how you wish to pay.
After paying, let us know by telling us your invoice code.
As soon as you let us know, we will then send the Paypal funds you ordered.
Having doubts about the legitimacy of our services?
Peso Exchanger is DTI registered. See our DTI registration here.
We have been offering online payment services since 2008 and we have lots of testimonials. See the testimonials here.
If you have questions please visit our FAQ page.
If you are unsure of what to do, please contact us via mobile

You may like our Facebook fan page and add our Facebook account. You can follow us on twitter also.
The following two tabs change content below.
Eldest brother of 6 brothers, father of 2 daughters, husband to 1 loving wife, programmer, gamer, entrepreneur, freelancing advocate, financial planner, practical spender except on food, anime lover, and your internet savvy friend. I want to help build/convert more freelancers, independent workers, entrepreneurs in our country(Philippines).