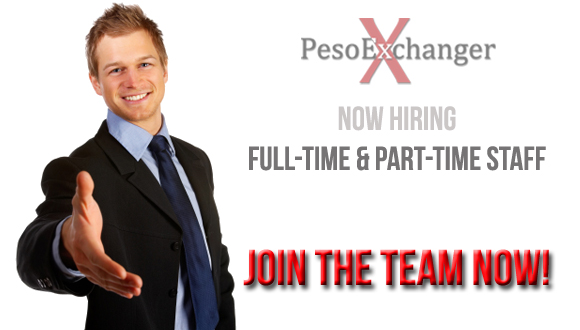 Hiring Peso Exchanger Staff (Full-Time)
Peso Exchanger is a national business catering e-currency exchange (Paypal to cash) and remittance services for online earners, overseas Filipino workers and online merchants using Paypal. We also offer funding and payment services for anyone who want to purchase or pay online. With the constant growing number of our clients, we need an additional staff to help us provide the best service.
Qualifications;
* Must be currently residing in Cebu
* Must be familiar with basic tools such as MS-Word, Excel, Powerpoint
* Must be familiar with internet tools such as the browser(Firefox or Chrome)
* Participates in forums and social networking websites
* Must have acceptable English and communication skills, both written and verbal
* Must be able to understand and respond in Tagalog
* Good with customer handling and relations
* Can commit to a working contract of 1 year minimum
* Any educational attainment will do
* Home based work experience is a plus
* Basic understanding of how payment processors work is a plus
* Basic knowledge in banking/online banking is a plus
* Basic knowledge in using WordPress is a plus
Responsibilities;
* Maintain our website
* Facilitate Contest/Promos
* Make content for our website (banners, images, articles, polls, etc…)
* Represent Peso Exchanger in other websites
* Constantly review Paypal policies
* Constantly browse the internet for updates in fraud and scams
* Assist other staff in their responsibilities which are listed below
* Answer Peso Exchanger clients' inquiries
* Process request of Peso Exchanger clients
* Promote our service and website
* Make daily reports, weekly reports, monthly reports and our annual report
* Represent Peso Exchanger in business meetings, seminars and events
Benefits;
* SSS will be provided or continued if you already have it
* PhilHealth will be provided or continued if you already have it
* Basic Pay + Monthly Bonus for targets
* 13th month bonus
* work in the comfort of your home
* will be provided your Load Allowance & Cellphone
* will be provided your own Laptop
* will be provided your own Globe Tatoo Stick with an Unlimited internet plan with Globe
For those interested in the position, please send your application letter with biodata to 

[THIS POSITION HAS ALREADY BEEN FILLED]
[THANK YOU FOR YOUR INTEREST!]
The following two tabs change content below.
Eldest brother of 6 brothers, father of 2 daughters, husband to 1 loving wife, programmer, gamer, entrepreneur, freelancing advocate, financial planner, practical spender except on food, anime lover, and your internet savvy friend. I want to help build/convert more freelancers, independent workers, entrepreneurs in our country(Philippines).