We now support Chinabank bank transfers
Due to many clients using Chinabank, we opened an account. Now that our account is active and ready, we can now cater Chinabank bank transfer request.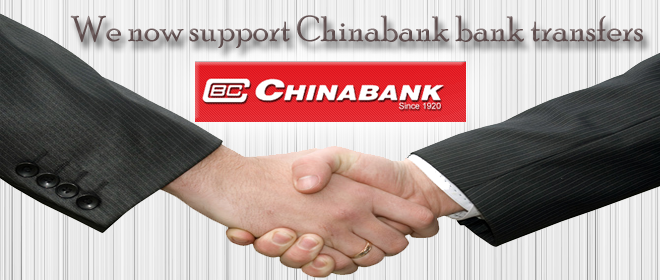 No longer will our Chinabank clients be having additional fees anymore.
Bank transfer request will also have a faster turn around time now instead of waiting for banking hours.
We will also be able to do Chinabank transfers on weekends and even holidays.
To be able to withdraw your Paypal funds to your Chinabank bank account, use our Paypal withdrawal service or PWS.
CLICK HERE to see how our Paypal withdrawal services works.

Here are a list of other banks and options we support  for withdrawal CLICK HERE
We look forward to opening other possible withdrawal options for our clients. We are hoping you would send us your suggestions and comments.
If you have questions please visit our FAQ page.You can contact us on our fan page, facebook, email or our mobile numbers:
Staff
Contact Information
Schedule
Neil
 
Monday – Friday
From  9:00AM-8:00PM
Available even
holidays or weekends
Jyza
Wednesday – Sunday
From  9:00AM-8:00PM
Available even
holidays or weekends
Our full time staffs are always ready to assist you with your request or questions.
They are online from 9:00AM-8:00PM every day, even on holidays or weekends.
The following two tabs change content below.
Eldest brother of 6 brothers, father of 2 daughters, husband to 1 loving wife, programmer, gamer, entrepreneur, freelancing advocate, financial planner, practical spender except on food, anime lover, and your internet savvy friend. I want to help build/convert more freelancers, independent workers, entrepreneurs in our country(Philippines).