We now support PayPal to Metrobank transfers
More and more of our clients have been suggesting that we support other banks and provide other payment options. As I'm writing this article right now, our research staff are finding ways to add more options.
Starting today, we can now offer PayPal to Metrobank in our PayPal withdrawal service (PWS). You can now withdraw your PayPayl funds straight to your Metrobank account in just a few minutes even on weekends and holidays.
Also, you can now choose to pay us via our Metrobank account for using our web payment services (WPS).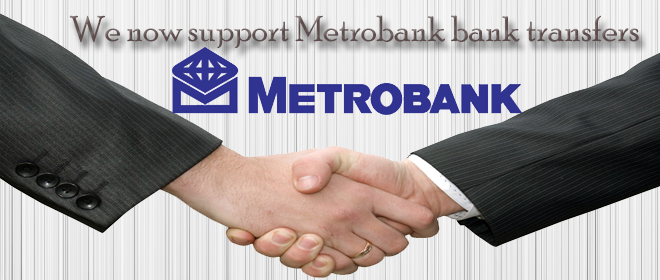 To be able to withdraw your PayPal funds to your Metrobank bank account, use our PayPal withdrawal service or PWS.
CLICK HERE to see how our PayPal withdrawal services works or simply play the video below.
Here are a list of other banks and options we support  for withdrawal CLICK HERE
Metrobank requires us to enroll your banking information before we can send money to your account. Just contact our staff and provide your banking details to have your account enrolled. This process may take 3-5 banking days.
We look forward to opening other possible withdrawal options for our clients. We are hoping you would send us your suggestions and comments.
You can contact us on our fan page, facebook, email or our mobile numbers:
Staff
Contact Information
Schedule
Neil
 
Monday – Friday
From  9:00AM-8:00PM
Available even
holidays or weekends
Jyza
Wednesday – Sunday
From  9:00AM-8:00PM
Available even
holidays or weekends
Our full time staffs are always ready to assist you with your request or questions.
They are online from 9:00AM-8:00PM every day, even on holidays or weekends.
The following two tabs change content below.
The youngest of the family, animal and food lover, who values time and family, thrift, business minded, and a team player.