How does the Paypal Withdrawal Services (PWS) work?
Just remember these 3 simple steps;
1.) Let us know about your request.
Just contact us online (via Facebook).
How much you want to withdraw from your Paypal?
How you want to get paid?
2.) We will then give you instructions on how to send your Paypal funds to us.
3.) After we receive your Paypal funds, you will get paid right away.
Our processing staff will send money to be credited to your bank account in just a few minutes or you can choose to get paid via remittance or cash pick up from our office. See payment options here.
NOTE: To be able to use Paypal Withdrawal Service you need to go through Peso Exchanger's verification process. Click here to apply for the verification.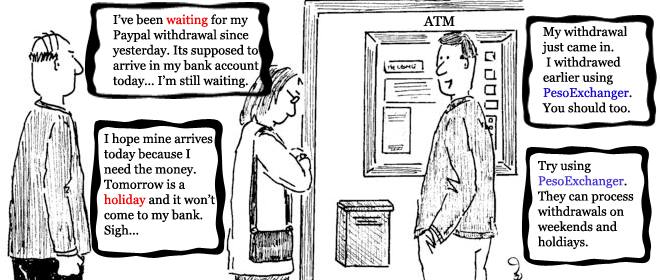 Here are ADVANTAGES for using Peso Exchanger Paypal Withdrawal Services:
+ you can now use your Paypal funds as good as cash/real money
+ you can withdraw even on holidays and weekends
+ you don't pay fees from Paypal
+ save you a lot of time (you get your cash/bank transfer only in a few mins)
+ you avoid your bank transfer rates
+ you avoid your bank service fees
+ you don't need to have a bank account, a credit card or a debit card to withdraw your money
+ you don't need to divulge your banking information to Paypal to withdraw your funds
+ you can withdraw your Paypal funds through any of the withdrawal options listed here
To qualify for the Paypal Withdrawal Service, you have to apply for our verification process. Click here to apply
If you have questions please visit our FAQ page.
If you are unsure of what to do, please contact us via mobile

You may like our Facebook fan page and add our Facebook account. You can follow us on twitter also.