It has been 3 years since we have offered our services to the public. In celebration of this milestone we are doing an anniversary raffle. We are giving away 10 Thor: The Dark World (2013) IMAX movie tickets to the lucky winners of this raffle.
See mechanics at the bottom of the post.
Who can join?
Anyone who has used Peso Exchanger can join this raffle(even if it was 1-3 years ago). We have a list of clients who availed our service since we started at October 23, 2010. Anyone who wins but has never used our services will forfeit their prize. The forfeited prizes will be raffled again to make sure winners are only those who have use our services.
How do I claim my ticket?
Literally there is NO physical ticket. You will be given a bCODE which can be used to print the movie ticket.
What is a bCODE?
A bCODE is a secure and encrypted message that can be scanned easily. The message is the result of a proprietary algorithm that's transmitted across technology that's standard in over 99.7% of the world's mobile phones. Anybody familiar with a text message will be instantly comfortable with a bCODE. It can be scanned via the bCODE machine located in all SM Cinema branches, whether it is printed or shown via SMS.
When and how can I claim my prize?
If you are one of the winners, make sure to contact us 1 day before you want to claim your prize. Your prize will be sent to you in a form or SMS message which will contain your bCODE . You can only claim your prize until November 8, 2013. Prizes not claimed after November 8, 2013 will be forfeited.
What time of movie ticket can I get?
Depending on the availability of tickets on the SM Cinema branch you choose, you can get IMAX or standard tickets.
Below is a picture of what a bCODE machine looks like.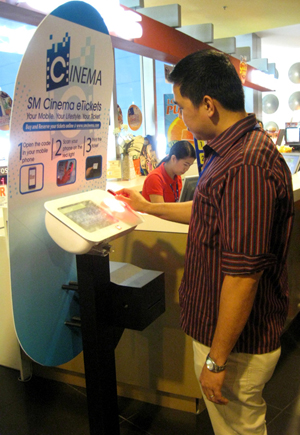 For questions and inquiries please contact our online staff via Facebook. This is our Facebook account.
The following two tabs change content below.
Eldest brother of 6 brothers, father of 2 daughters, husband to 1 loving wife, programmer, gamer, entrepreneur, freelancing advocate, financial planner, practical spender except on food, anime lover, and your internet savvy friend. I want to help build/convert more freelancers, independent workers, entrepreneurs in our country(Philippines).