How to Request an Exchange?
VERY IMPORTANT: If this is your first transaction or exchange request you need to apply for verification before you can avail of this service.

Follow these instructions.
As proof of transaction request, you are to follow these instructions to initiate a request for an exchange.
NOTE: ALWAYS contact us via mobile or our Facebook account before sending request so we can check the availability of funds, 3rd party services like online banking and our staff.
1.) Take note of your account name. The account name is underlined red in the image below.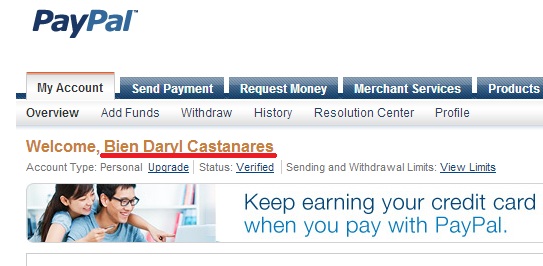 2.) Click Send Payment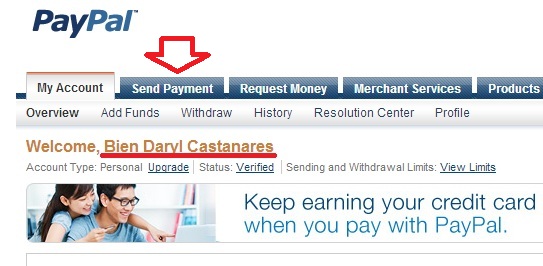 3.) After clicking Send Payment, fill in the necessary details.
3.1 Enter our Paypal account email address. Please contact us via mobile or facebook to get our Paypal email address.
3.2 Enter the amount you want to withdraw.
3.3 Always choose PHP – Philippine Peso. Your funds must be in PHP first before sending it to us.
3.4 VERY IMPORTANT: Make sure you select I'm making Personal Payments
3.5 The last step in this page is to click CONTINUE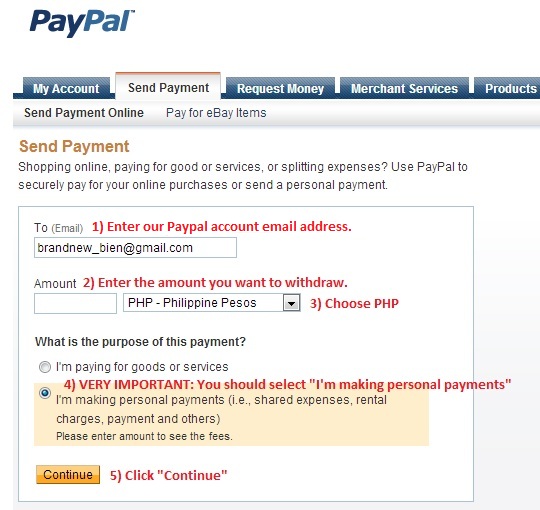 4.) This is the final page. Verify if you done everything correctly before sending the money.
4.1 Check if there is a fee. If there is a fee, then you didn't select "I'm making personal payments" in the previous page
4.2 This is the last step which will be sending the money. Click Send Money.
5.) For the final step, we may not notice you sending the request instantly. Please notify us that you have made a request.
Upon contacting us, please fill up this service request template and send it to us so we can process your request.
PesoExchanger Service Request
Money Sent:
Mode of Payment:
Account Name:
Click here to find samples and how to create your service request template.
If you have questions please visit our FAQ page.
If you are unsure of what to do, please contact us via mobile

You may like our Facebook fan page and add our Facebook account. You can follow us on twitter also.