PayPal Issues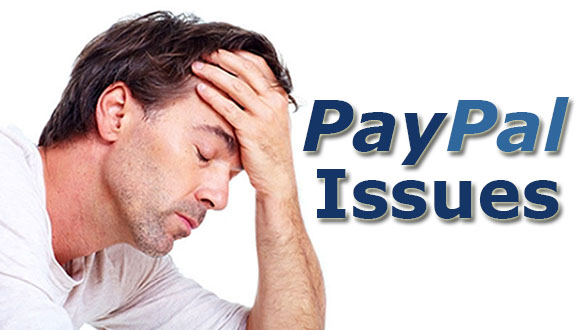 Have you encountered PayPal issues recently? Or have you encountered and solved it right away?
As we all know, many or most of the online earners are using PayPal and some small merchants like online shops are starting to use PayPal. PayPal turned out to be the bread and butter for most online earners. However, not all users are greatly satisfied with the service they offered. You want to know some of the reasons why?
1) PayPal will freeze or limit your account without knowing the reasons.
Usually PayPal will email you if your account is having an issue, the worst thing is you didn't receive any email, and when you tried to log in there is a notice that your account is limited. And the funds on your PayPal account will be frozen unless there is an option that you can refund the payment to the sender. If no option at all, you need to wait for 180 days before you can withdraw your funds to your bank account.
2) PayPal will ask you to send important and private documents if your account is limited.
If you will encounter this, you need to submit a photo bearing ID, bank statement, credit card statement, proof of billing address and etc. These are private information, however they forced you to submit these in order to solve the PayPal issue you encountered with your account. However, not all of the users submitted these private  information won the appeal to gain their accounts back.
3) You have been scammed, but PayPal favored the scammer.
Yes, you will encounter this, or never. One example of this: you are selling online, there's this certain customer who wants to purchase one of the items you are selling, you both made a deal, he paid you, then you delivered the item. Later the customer will file a dispute that he did not receive the item. PayPal will hold the funds and also want to hear your side, however, sometimes PayPal will give favor to the scammer and the payment was sent by the scammer will be reversed back to him.
4) PayPal will hold the funds.
In case you will encounter this, PayPal will sometimes hold the funds due to unauthorized transactions. They do believe that the funds you received was from an unauthorized payment. Both parties, the sender and the receiver will contact PayPal immediately to solve the issue or the payment you received will be reversed back to the sender
These are some of the PayPal issues you will encounter some time.
PayPal is still good, if you won't be encountering these issues, or you encountered and solved it right away. Just a few reminders, just be careful in dealing with PayPal, especially when sending/receiving payments, so that you will have a small chance of encountering these PayPal issues and to avoid head aches.
The following two tabs change content below.
The youngest of the family, animal and food lover, who values time and family, thrift, business minded, and a team player.