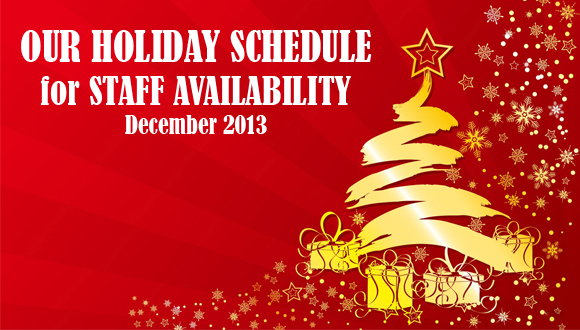 We have plotted our schedule for staff availability in the coming days.  Below you will see the schedule for when our staff will be online to process your request. For dates not specified below, our staff will be available in our regular business hours 9am-8pm.
Holiday Schedule for:
December 24(Tuesday) – 9am to 3pm
December 25(Wednesday) – 10:30am to 5pm
December 31(Tuesday) – 9am to 3pm
January 1(Wednesday) – 10:30am to 5pm
For the days listed below, there will only be 1 staff online to process request. There will be NO other staff available for remittance request nor verification. So if you are new to Peso Exchanger, I suggest you try to get verified before these dates so you can use our services in the coming days.
December 21, 2013 – December 25, 2013 December 28, 2013 – January 1, 2014
IMPORTANT NOTE: There are other factors that may affect our ability to process your request besides staff availability. Factors such as availability of 3rd party services like the bank's online banking facility. Another factor may be the availability of funds. Always contact us before sending Paypal funds. Happy holidays everyone. Keep safe and God bless.  
The following two tabs change content below.
Eldest brother of 6 brothers, father of 2 daughters, husband to 1 loving wife, programmer, gamer, entrepreneur, freelancing advocate, financial planner, practical spender except on food, anime lover, and your internet savvy friend. I want to help build/convert more freelancers, independent workers, entrepreneurs in our country(Philippines).