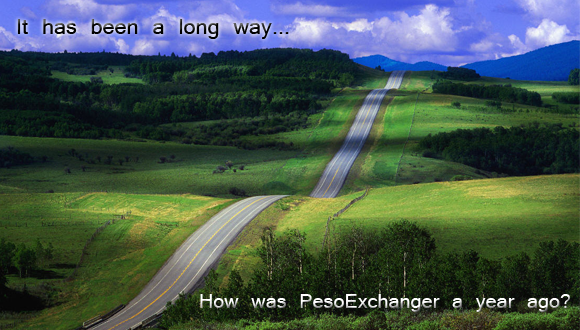 Looking back at Peso Exchanger a year ago, we can compare how it was  and how it is today. I can say we have grown quite a lot, from a single person processing request back then, now we have 2 full time staff and 2 part time staff to provide quality service and assistance to our growing number of supportive clients.
Back in March 2012;
There was only me who process request, answer queries, maintain the website and promote it.
I only use my home PC and office laptop to process request.
Request was done through mobile SMS or via call.
Most of the verification were done personally, and only a few were done online.
Staff availability and schedule was not clear.
I only go online if there are any request for me to process.
We have a badly designed website. In fact one of our clients honestly said he wouldn't want to transact with us because our website did not look professional enough.
We were not DTI registered.
We have yearly give-aways/gifts. We gave away exclusive Peso Exchanger T-Shirts.
Today(March 1, 2013) as this post is written;
Peso Exchanger now has 2 full time staff and 2 part time staff. Front line staff are ready to answer queries, process request and provide assistance on everyday of the week, even on holidays.
Each staff is provided their own mobile phone, laptop and unlimited internet so they can go online on their schedules.
Request can now  be done through our Facebook pages easily.
If you can't access Facebook in your office, you can always SMS or call our staff.
You can also use forms in the website to make request.
Verification process for new clients now have a process and schedule.
Terms and Conditions are up to date to guide possible clients regarding our agreement.
We have overhauled our website to look professional.
We now have a much more organized profiling of clients, reports and plans.
We now have forms in the website that you can use to make request.
We still have yearly give-aways/gifts for our clients.
We gave mugs/tumblers last December 2012.
We are now DTI registered and our BIR permit is being worked on.
We now have many copycats. Many offer services same as ours, most of them just copy what we already have (Our verification process, our services, our methods, our terms of services, etc….). Be careful in dealing with our copy cats, some may be legit and some may have malicious intentions. Know the risk involved in dealing with starting/copying exchangers.
It has been a year of struggles and obstacles. We overcame every one of them and made it through. We prospered and survived. We have grown to be one of the biggest and most organized exchangers in the country. All of this was achieved because of our loyal customers and those who patronize our services. We couldn't have done much if it wasn't because of you guys. For this I would like to say to everyone, in behalf of our hardworking staff, THANK YOU FROM THE BOTTOM OF OUR HEARTS! THANK YOU FOR PUTTING YOUR TRUST IN US!
The following two tabs change content below.
Eldest brother of 6 brothers, father of 2 daughters, husband to 1 loving wife, programmer, gamer, entrepreneur, freelancing advocate, financial planner, practical spender except on food, anime lover, and your internet savvy friend. I want to help build/convert more freelancers, independent workers, entrepreneurs in our country(Philippines).