Please be informed that Ace Ebora Faelnar whose picture appears below is in debt to Peso Exchanger due to his transaction last December 5 and 7, 2013 (amounting to: 2,723.92 PHP that was reversed to his PayPal account) in which he received the total amount of 2,506.00 PHP (less fees) through his Unionbank account.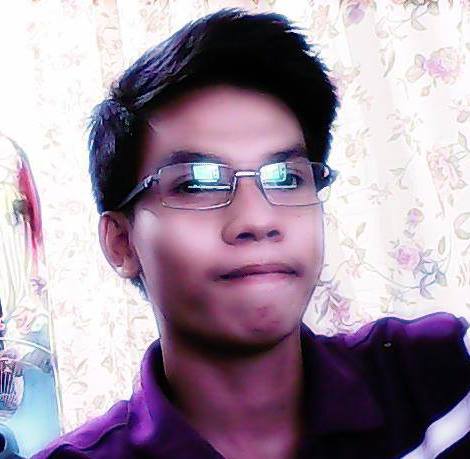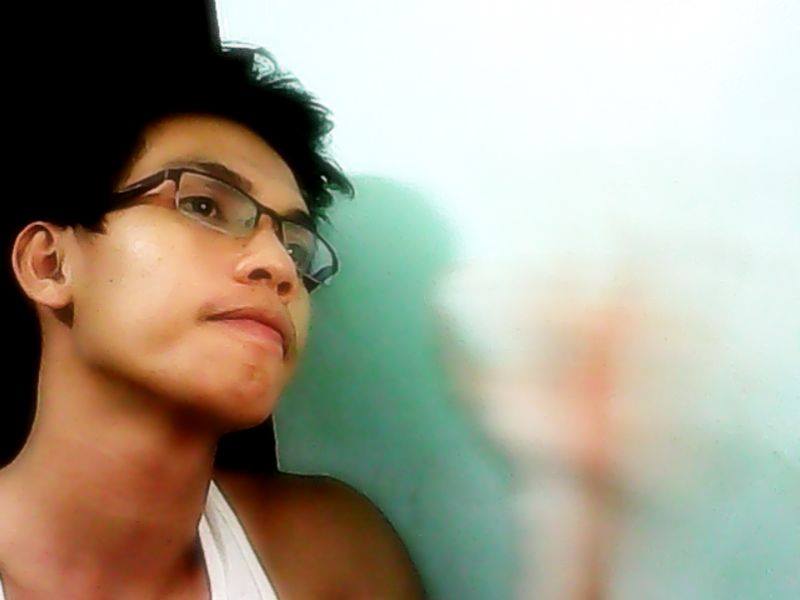 Ace, gave us hope that he will refund the money we sent to him via Unionbank if he cannot resolve the issue of his PayPal account that was limited.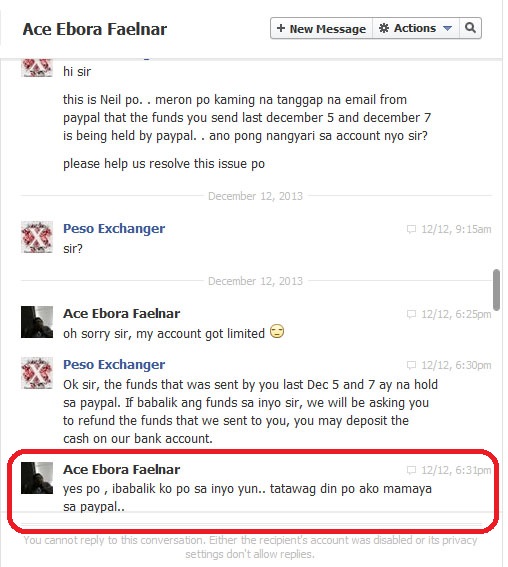 Unfortunately, until now January 11, 2013, he was not able to refund the payment to us and he blocked us on his facebook account.
Below are the details of Ace:
ACE EBORA FAELNAR
k.smiler3@yahoo.com (email address)
k.smiler5@yahoo.com (first PayPal account)
k.smiler6@yahoo.com (second PayPal account)
https://www.facebook.com/ace.faelnar (he blocked us)
(043) 702 5343 and 0998 326 0323 (contact numbers)
Calicanto Batangas City (address)
Below are evidence of the the reversed transaction through Paypal.
Further below is the proof of her payment through Unionbank.
December 5, 2013 Transaction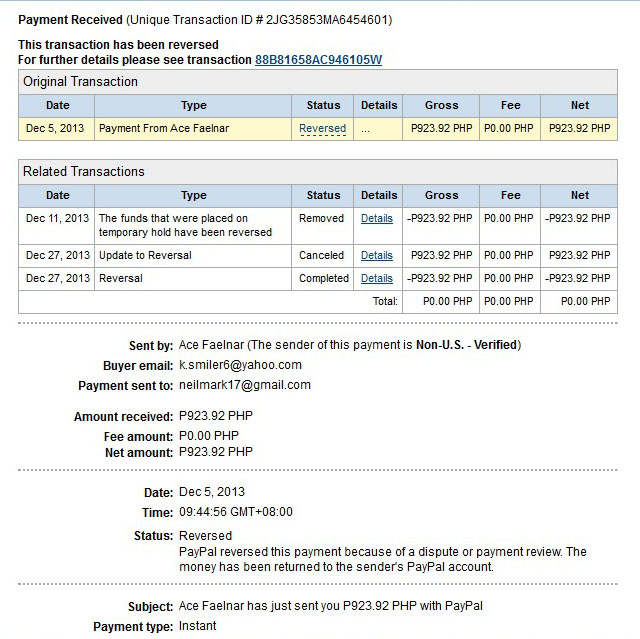 December 5 payment was reversed on December 27, 2013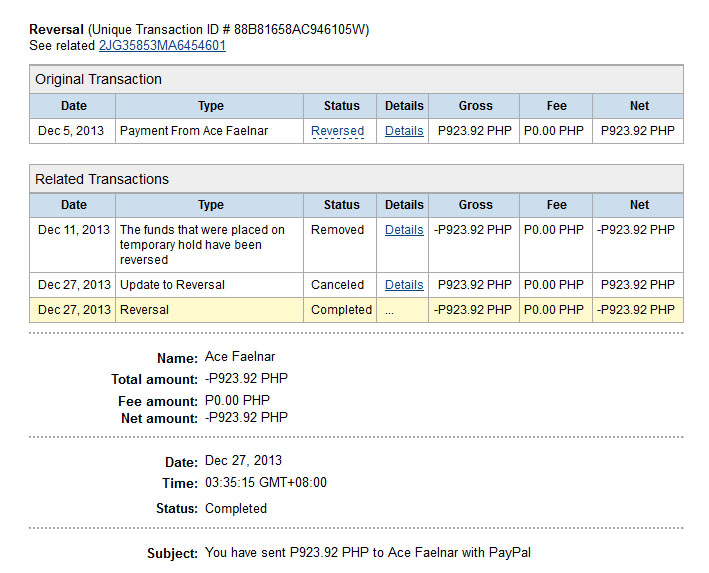 December 7, 2013 Transaction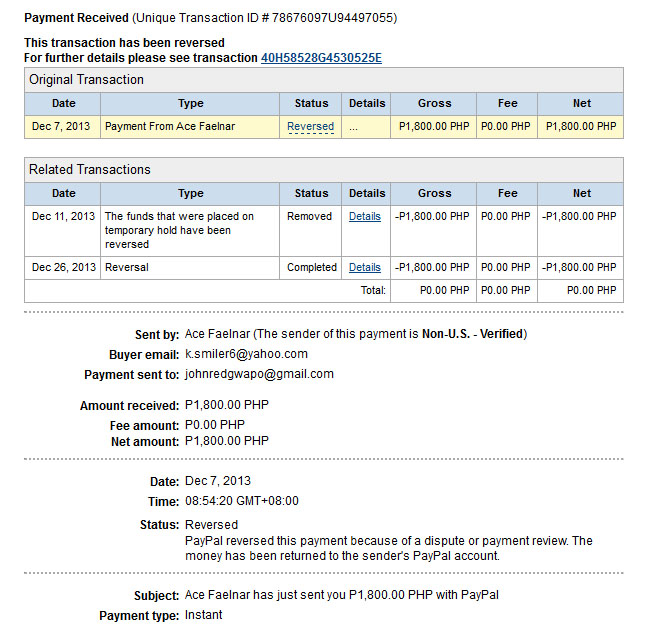 December 7 payment was reversed on December 26, 2013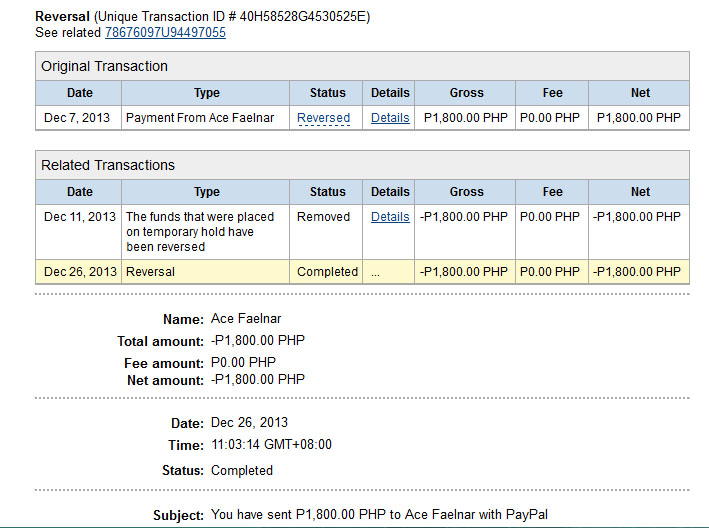 Below are the proof of Payment processed by Peso Exchanger to pay him with a total amount of 2506.00 PHP through his Unionbank account.
December 5 Payment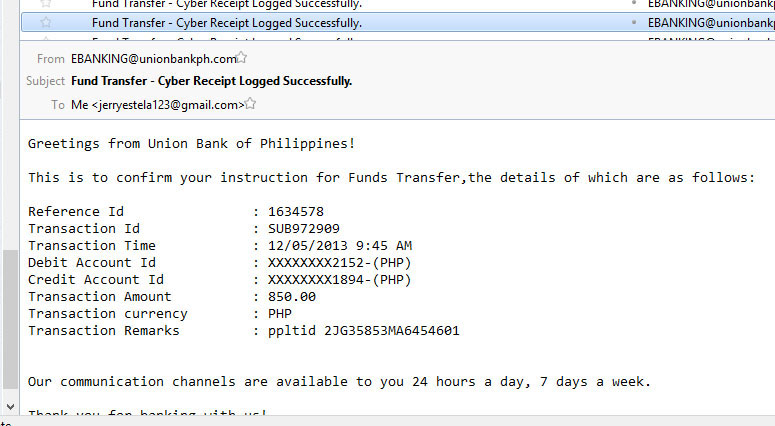 Decemeber 7 Payment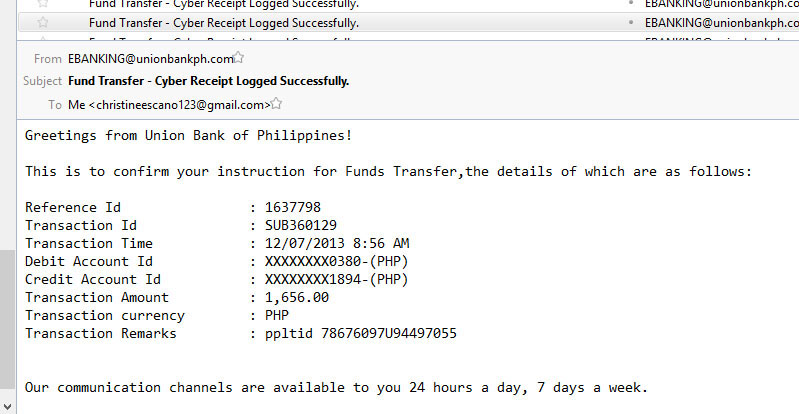 Peso Exchanger provides Paypal exchange to cash services to provide cash to those freelancers/online earners money that they would need urgently. For a long time that we have built trust on our clients, and now this happens. Who even knows this person, please inform him about this post.
This serves as a bad example for people you meet online, even for a small amount only, they would trade their dignity.
The following two tabs change content below.
The youngest of the family, animal and food lover, who values time and family, thrift, business minded, and a team player.