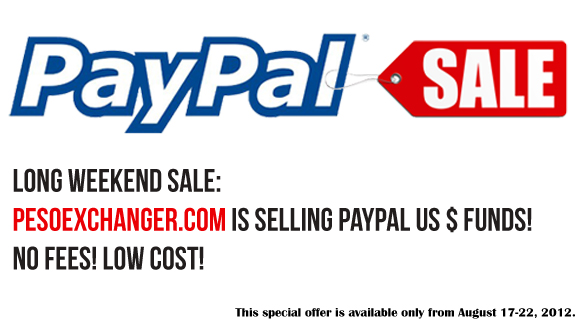 SPECIAL OFFER! Long weekend SALE: Selling Paypal funds! NO FEES!
We will be needing money instead of Paypal funds for the long weekend. So, we are selling Paypal funds at the cost of Paypal's exchange rate. We won't be collecting fees for this special offer! So hurry and buy now!
This special offer is available only from August 17-22, 2012.
How much is the cost for every US $?
They cost around 43PHP more or less. To know the exact amount, contact us to know Paypal's selling rate.
How do I pay you?
You can pay us through bank transfer, bank deposit, cash remittance or cash upon meet up.
Here are more details about the Payment options.
How do I get the Paypal funds that I have paid for?
After we confirm/receive your payment, we will process your request right away. You will receive the Paypal funds that you paid for in just a few minutes.
How does it work?
You fill up the Paypal funding request form below and hit submit.
Once submitted, one of our staff will then review the request and see if we have available funds to cater your request.
You will then receive a response with your order code and total cost.
After getting the order code and total cost, you can then pay us through any of the payment options you prefer.
After paying, let us know your order code so we can send the funds to your Paypal account.

* Include
additional instructions
if there are select options
(e.g color, model, additional features, preferred shipping method)
* Fill up complete shipping address w/ your specific country/region/province
* Make sure to put your EXACT & CORRECT Paypal account which is an email address
* Make sure to indicate the right type of currency
Disclaimer: It is your responsibility to check and verify if the seller/merchant that you are making a purchase/payment is legit. Peso Exchanger is not responsible for items/services that are damaged, not shipped, not as described or disputed.
If you have questions please visit our FAQ page.
If you are unsure of what to do, please contact us via mobile

You may like our Facebook fan page and add our Facebook account. You can follow us on twitter also.
The following two tabs change content below.
Eldest brother of 6 brothers, father of 2 daughters, husband to 1 loving wife, programmer, gamer, entrepreneur, freelancing advocate, financial planner, practical spender except on food, anime lover, and your internet savvy friend. I want to help build/convert more freelancers, independent workers, entrepreneurs in our country(Philippines).