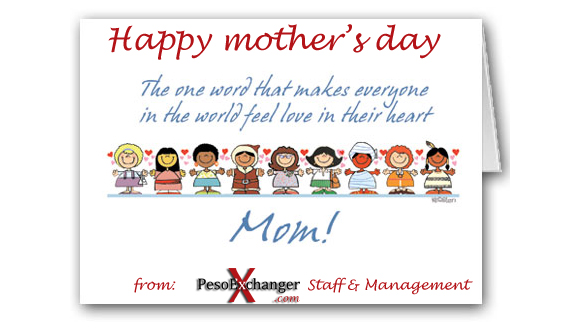 This goes out to all our mothers and those who are mothers. Happy mothers day!
From your loving Peso Exchanger staff, management and investors! Happy mothers day!
We only have one Mother
In our lifetime here on earth
The one who held us nearest
The one who gave us birth.
Her gentle soul and spirit
Stay with us everyday
Her presence is everlasting
In what we do and what we say.
For she taught us understanding
And she taught us how to pray
But most of all she taught us
How to live the "right" way.
She touched us with her warmness
She held our fears in tact
And even when we wandered
She was there when we came back.
She knew all that we needed
To keep us safe from harm
And even under pressure
She kept her grace and charm.
Her way will always inspire us
As we teach our children to live
For a mother's life is measured
By the love that she did give!
~© Mary West 1/20/2000~
Happy Mothers Day!
The following two tabs change content below.
Eldest brother of 6 brothers, father of 2 daughters, husband to 1 loving wife, programmer, gamer, entrepreneur, freelancing advocate, financial planner, practical spender except on food, anime lover, and your internet savvy friend. I want to help build/convert more freelancers, independent workers, entrepreneurs in our country(Philippines).