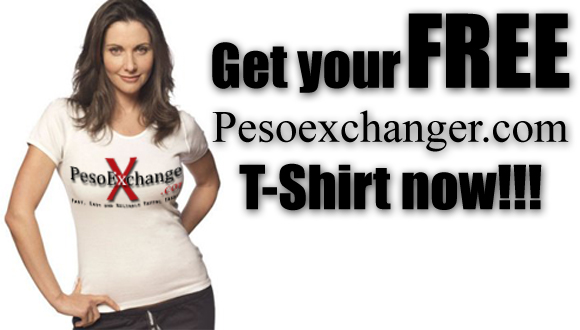 Peso Exchanger Shirts are ready for pick up! Happy Holidays Peso Exchanger Clients!
Exclusive Pesoexchanger.com Tshirt's are now ready for pick up. Those who are listed last week can now get their shirts. Below is a list of those who can already pick up their shirts.
Click here to see if your name is on the list! 
Glen Calamba
Imar Joseph Escarda
Flaviana Garcia
Danillo Pacana
Ritchie Matos
Mark Gallardo
Chris Sapong
Rosane Elizabeth Lupague
Joseph Abellar Jr.
Jhessa Naya
Rudith Villahermosa
Mary Shayne Sanchez
Rafael Acilo Jr.
Mary Guenevere Cedeno
Jhon Roy Mag-usara
Rhea Garbo
RC Sunga
Ma. Remedios Paunil
Linnel Fat
Sandra Impoc
Arnel Tapia
Harjenny Fat
Felisa Credo
Bheng Felisilda Celon
Anna Mae Montes
Shirts are available for Pick-Up at Cebu City Hall, Brgy Snto Nino 8am-5pm on weekdays only. Contact me for more details 09335450186
SHIRTS NOT CLAIMED BEFORE Dec 29, 2011 will be given to other clients of Pesoexchanger.com
The following two tabs change content below.
Eldest brother of 6 brothers, father of 2 daughters, husband to 1 loving wife, programmer, gamer, entrepreneur, freelancing advocate, financial planner, practical spender except on food, anime lover, and your internet savvy friend. I want to help build/convert more freelancers, independent workers, entrepreneurs in our country(Philippines).