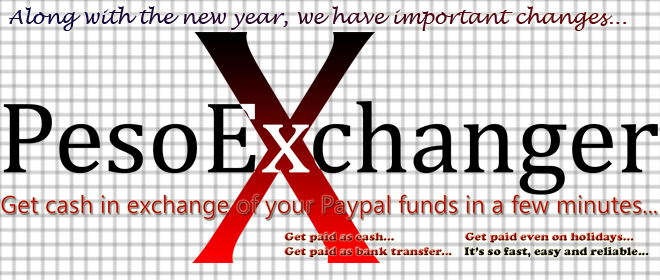 We are no longer able to use our old Paypal account and therefore we will be using a new one. The official new Paypal account will be operational on January 10, 2012. While waiting for that account to be ready, we will be using a temporary account. Please contact me directly via mobile to know that account's email address.
New year is coming, the fate of our business has been decided. Not only will we be using a new Paypal account, we will be having a new business model. With this new business model comes new terms or service. The idea of withdrawing your Paypal funds in only a few minutes will remain but we will be adding security features. The idea of withdrawing Paypal funds even on weekends and holidays remain the same.
Our name will still be PesoExchanger but the term exchange won't be our key in this business anymore.
This is how the new PesoExchanger works;
You will still initiate the request and this time it's not an exchange request, it's a loan.
The money you will be receiving will be considered money you owe from us.(In Paypal term "Payment owed")
And the funds you will be sending in doing a request is the collateral.
If your request is approved you will get the loan.
If it is rejected your request and funds will be refunded.
The "fee" as we used to call it in the old PesoExchanger is now called the "interest".
The interest is deducted in advance, so that is why you will not receive the total amount that you have as collateral.
The interest rate is the same as our old rate when it was called fees, so it will be 5%-8% still.
The idea to exchange your Paypal funds to cash is the same, we just have a different set of terms now because of legal purposes. Please read from http://terms.pesoexchanger.com for more details.
We will also be using a different template for sending request from now on. Here is how the  NEW request templates look like.
Subject; Payment for money owed
Money Sent: 10 php
Mode of Payment: Unionbank Eon 109123456789
Account Name: Francis Bernard Yu
Here is a graphic presentation on how PesoExchanger works now: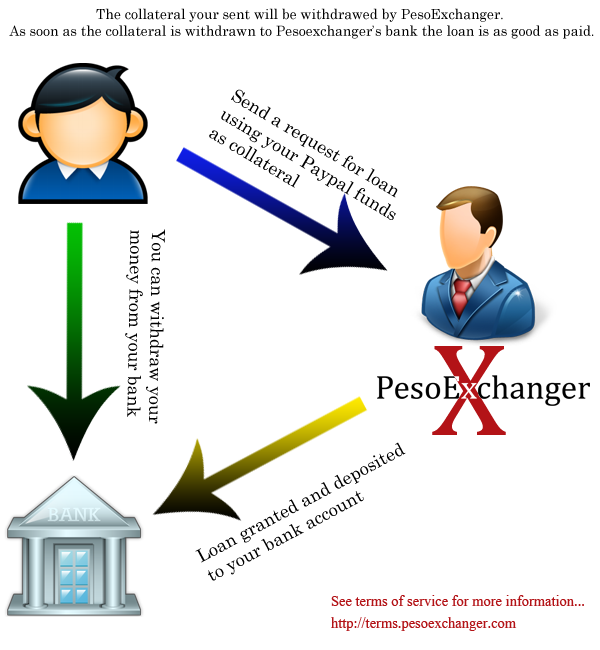 The following two tabs change content below.
Eldest brother of 6 brothers, father of 2 daughters, husband to 1 loving wife, programmer, gamer, entrepreneur, freelancing advocate, financial planner, practical spender except on food, anime lover, and your internet savvy friend. I want to help build/convert more freelancers, independent workers, entrepreneurs in our country(Philippines).